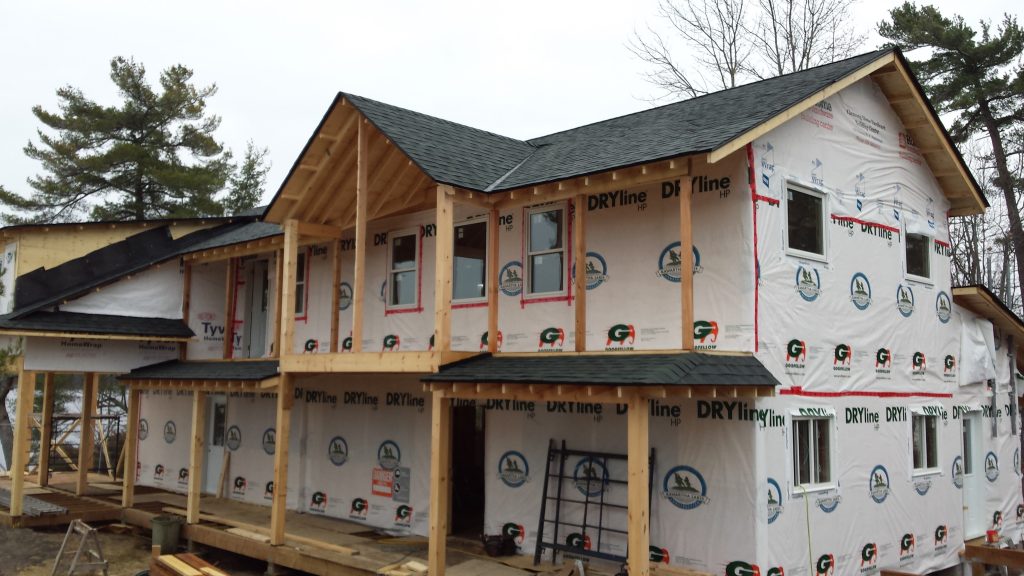 Juniper Island Store Rebuild
December 23, 2015
Posted in News
It's been a few weeks since our last check-in on the progress of the Juniper Island Store on Stony Lake. We know this project is near and dear to the hearts of many locals and cottagers and we wanted to provide an update on where the rebuild is at. If interested, you can view a time-lapse video of the project we have posted on our YouTube page here.
At present time, KLC has prepared the site for the work that will be completed during the winter months and pulled our boats and crew off the lakes. The next few weeks our team will be stuck in a bit of a limbo, waiting for ice to form and for conditions to be appropriate for our crew to travel across on snowmobiles.
The rebuild is well on track, with all windows and doors in place, roof on, staircase installed and decks fully framed. All drywall materials have been delivered to the island and will be installed when our crew is back on the island, along with all finished surface material for the interior. The building is locked up tight and awaiting our crew to return in the New Year and work through the winter months. As mentioned previously, ice conditions will determine exact date of our return but our Production Manager (who has been crossing his fingers and pleading daily with Mother Nature) is predicting the last week of January. There may be no action on the island at present time, but our team is busily working away, using this time to iron out fine design & technical details that need to be attended to.