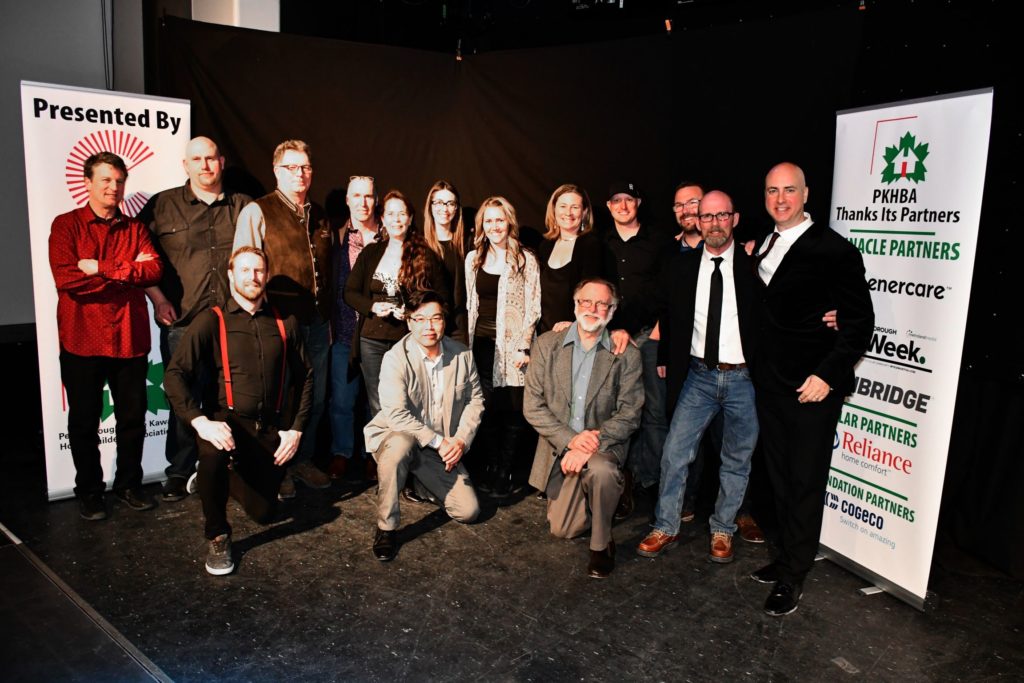 Kawartha Lakes Construction Sweeps Housing Design Awards
April 18, 2019
Posted by Emily Craigen in Blog
Kawartha Lakes Construction took home seven awards at the Peterborough and the Kawarthas Home Builders' Association Housing Design Awards.
The housing design awards gala celebrates the best of the best among members of the PKHBA. Most importantly, the event serves as an opportunity for our team to kick back, get (slightly) dressed up and celebrate a year of hard work. It is a fantastic time to connect with our peers and check out the amazing projects they have completed.
Our team was recognized for 7 awards in various categories, from marketing to custom home builder of the year!
Marketing and Sales Awards
Ad Campaign – Recognizing an ad campaign with consistent messaging, effective use of media and overall effectiveness. The KLC team won this award for our "30 Acts for 30 Years" campaign. This campaign saw our team participate in 30 community initiatives to help celebrate & acknowledge our 30th anniversary in business.
Website – Recognizing a website that implements originality, creative use of social media, ease of navigation and effective communication of brand. Our fresh and functional website would not have been possible without the creative team at StudioPTBO.
Best Rooms, Spaces and Outbuildings Awards
Best Exterior Space – Open to any exterior space project, including screened in porches, 3 season rooms and outdoor living spaces. Judges look for creative use of space, challenges addressed and functionality / innovation of the design and floor plans. Hence, we brought home the win with this screened porch project, an extension to a cottage we had built years earlier.
Commercial Project – This category is judging new or renovated projects that are non-residential in nature. Consequently, architectural appeal, creative use of space and overall functionality of the design are taken into account. KLC's brand new production facility brought home the bacon in this category!
New Home Construction Awards
Custom Build under 2500 ft2 – Any builder in this category must be registered with Tarion Warranty Corporation and the home must be registered with Tarion as well. Judges are looking for special features/challenges that were overcome, innovative design elements, architectural appeal, creative use of space, and functionality of the floor plan/design. The KLC team was honoured to be the winner in this category for this custom cottage build we designed and built in Buckhorn.
Prestige Awards
Renovator of the Year (tied with the awesome team at Gilbert + Burke) – This prestigious category is judged on many factors, from participation in industry, to community involvement. KLC has won this awards multiple times throughout the years and the recognition always means the world to us.
Custom Home Builder of the Year – KLC was named Custom Builder of the Year for the second year in a row. This award acknowledges a business that stands out from other custom home builders. Judges look at participation in advancement of the industry, community engagement and innovative business practices.
Thank you to the PKHBA and congrats to our fellow member nominees and winners! We can't wait until next year!