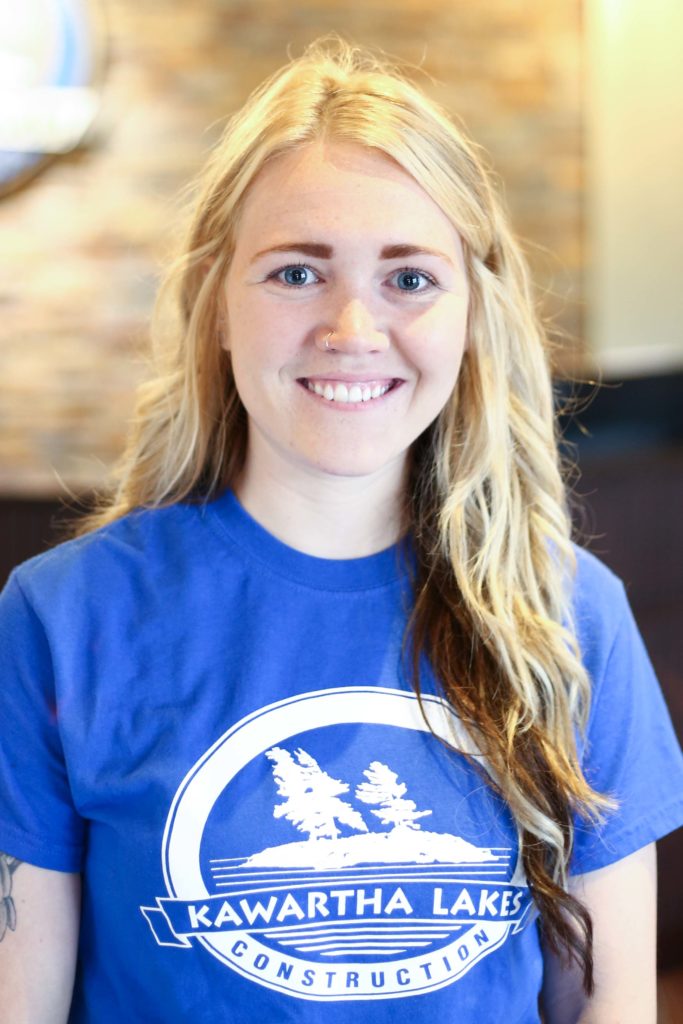 Meet the Team: Chelsea Lockhart, Project Coordinator
July 15, 2019
Posted by Lindsay Wilson in Meet the Team
Chelsea Lockhart, Project Coordinator at Kawartha Lakes Construction, has plenty of questions, and one piece of advice.
That advice, for those looking to build or renovate, is ask lots of questions: "Do your research, because there many details that go into building a house that for some clients, it just slips their mind, or they have no idea about."
Early Days at KLC
Chelsea started as a general labourer with KLC and after a year-and-a-half, was promoted to the position of Project Coordinator. She brings her trouble-shooting abilities to the design/build process early on. Being in charge of a project means coming into the office a few months early to "go through the schedule and scope of work. I give my ideas or input, and ask questions that I would have on site. "
To meet organizational milestones, Chelsea uses a 5-day planner to set goals for the week, in tandem with the schedule of the Project Developer: "I'll ask the subtrades at the beginning: "What do you think is a realistic goal to set for the end of the day, or the end of the week. Then we work together and I let the developer know what we're thinking and they can decide whether that's a good goal or not."
Communication & Collaboration
A large part of her job is to interact with the subtrades. This allows her to " learn more about each trade on a job site and how to help out if issues arise. If a plumber messes up the electrician, then how can we go about and fix that? Sometimes it's hard trying to schedule because your plumber has to come in before your electrician, etc. It can be tricky and hard to organize, but I like it. It's a good feeling to know that you've accomplished tasks at the end of the day."
Which is not to say errors don't occur. Like the time when she "didn't do an accurate count on material and I ordered too much. The materials were special order that could not be returned. So then it's a matter of trying to figure out how we can use that material on another project. Fortunately, we were able to do – which was the shop renovation next door. That turned out well!"
A recent project showcased her innate curiosity and ability to see the 'bigger picture' which resulted in a "kitchen renovation in Peterborough that had a zero-punch list. It was a great feeling to walk away knowing the clients were 100% happy and had no complaints at the end of the job."
Chelsea Lockhart is Project Coordinator with Kawartha Lakes Construction. Exploring a renovation, or pondering updating your home or cottage? Stop in and chat with us at our office in Lakefield!