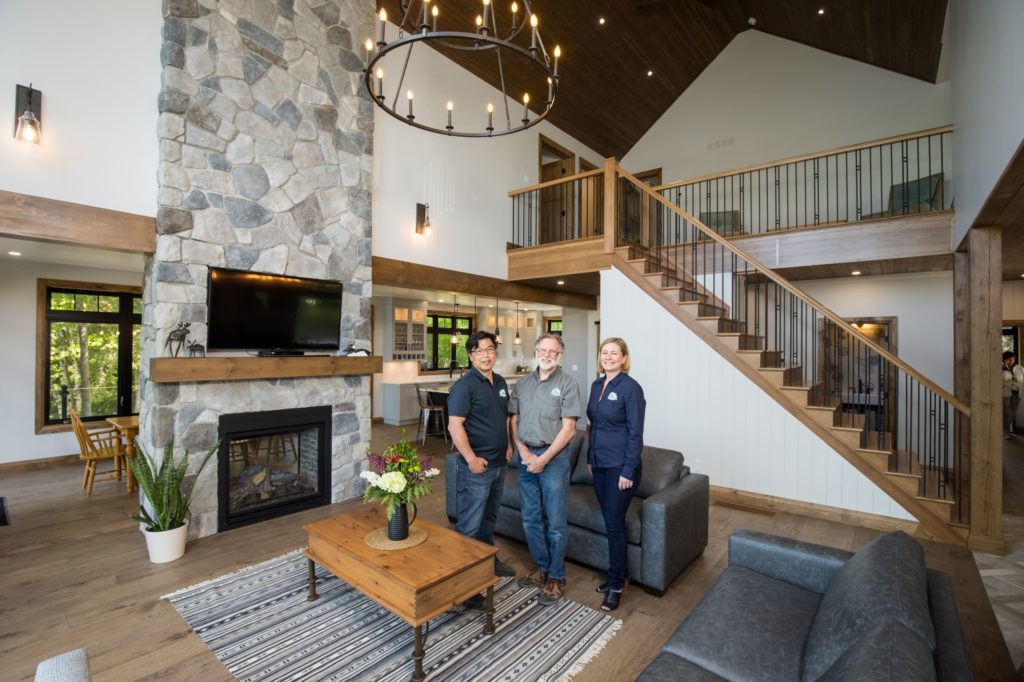 3 Reasons to Hire a Professional Designer
April 17, 2020
Posted by KLC in Blog
A few years back, a prospective client stopped into the KLC office, looking to get his head around what it might cost to do an addition. As we normally do with initial inquiries, we walked him through our showroom, asking questions to better understand his needs. While chatting about our design/build process, it quickly became apparent this homeowner had issues with paying a fee for the design phase. I'll never forget him looking at me and scoffing, "Well, I'm not going to pay for that. That's just, like, clicking around in AutoCAD?!".
Yikes! Let's explore a bit more, shall we? When you work with a professional designer like the ones at Kawartha Lakes Construction, you're working with BCIN-certified Architectural Technologists. They possess the technical expertise to bring a project to life plus years of working closely within the relevant regulations. This technical knowledge is paired with the unique creative ability to design aesthetically pleasing solutions. Solutions that fulfill the function, form and budget for a range of project types. Furthermore, our Design team works with Revit. A more robust tool than ol' AutoCad, Revit is a powerful 3-D modelling software (check out this video of Revit in action by our Jr. Designer Jenna Ford).
With all this in mind, it's easy to see Designers are an invaluable ingredient in any home renovation. Designers are problem solvers, working tirelessly to guide homeowners through the options and possibilities available to their own unique project. Their expertise saves you money by upfront planning, thus derailing pitfalls that can arise later in the construction phase.
3 Reasons to Hire a Professional Designer
---
1. Structural Expertise
A Designer's expertise on how buildings come together combined with an eye for design aesthetics and access to construction professionals position them as the "triple-threat" of the industry.
Designers possess a deep understanding of spatial planning & structural knowledge. Property layout (views, entry, elevations etc), aesthetics, proportion, functionality are all brought together seamlessly.
2. Relationships with Building Officials and Trade Partners
Working with a qualified designer is valuable in that the homeowner has access to their knowledge pertaining to site specific issues like setbacks and zoning. When you get deep into the by-laws and paperwork, it can be overwhelming and confusing. Having a professional that can guide you through the process is invaluable
Designers have long-standing relationships with local building officials across all local townships. They've collaborated with these townships for years on a range of complex projects.
Homeowners might not understand the nuances when it comes to paperwork involved in a renovation/build. Having a Designer ask the extra questions homeowners may not know about is integral in moving a project forward.
3. Collaboration & Communication with Construction
Our designers (and thus, our clients) reap huge benefits throughout the entire life cycle of a project by having access to the range of expertise offered by our various team members & trade partners.
As KLC's Sr. Designer & Design Manager, Christine Watts, shares, "We want to guide our clients down a successful path from the beginning. Being able to lean on the expertise of the team and have an insight into budgeting is huge. Many designers don't have that opportunity. Designers who become familiar with construction challenges become more rounded when creating designs for clients."
Another perk that Designers have is the collaboration and ease of communication with our Production crews and on-site team during the construction phase.
As Jenna Ford, Jr. Designer says, "Being the tight-knit group we are, Design and Production teams are constantly in touch. You get the creative and the technical. Project Leads regularly pop by the office to go over details and give me their insights. They'll call from site if they have a question or need to run something by me. There is constant back and forth."
This consistent access to the Production crew is obviously a huge benefit to bringing a design to life. Jenna shares, "The way we draw something and the way it's built can be two different animals. The field crew sees the materials out on the job site, we can share greater detail with them, and they understand what's going on in our heads. It makes working through any issues that arise much more seamless and efficient."
In Summary
We hope this post has helped you better understand the integral role a professional Designer plays in the home improvement industry. Next time you are researching options for your upcoming project, please consider the points above when weighing the pros & cons between hiring a professional vs. downloading some "free plans" or paying someone you will never meet in person. Hiring a professional Designer may seem to cost more upfront, but the value & experience they offer will more than outweigh the costs incurred from a poorly planned project.
If you'd like to connect with our Designers to chat about your next project, contact us today to get started planning!