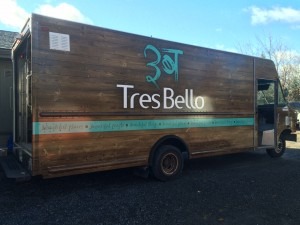 Funky Renovation on Wheels!
May 29, 2015
Posted by Emily Craigen in News
A funky renovation on wheels! Kawartha Lakes Construction had the chance to work on a project this past year that was a bit different than our usual custom builds and renovations. The owner of an artisan, fair trade shop featuring local and worldwide designs came to us with a old, retired white van and a vision. The result was a fun & funky transformation!
Janet Viirre, an avid traveller, was unsure where to establish her shop as she and her family live a bit of a nomadic lifestyle. After looking at different options, a friend suggested she take the shop along with her, in other words, have it in a truck! At the time, she was frequently hosting home parties and doing a lot of lugging around of the shop's growing amount of merchandise. The idea of being able to pull into a location, roll up the back door and be open for business was very appealing! Janet found an old white cube van online but it was in definite need of some TLC. KLC gutted the interior, replacing the industrial shelving with finishes, installed hardwood finishes, cabinets and a funky dressing room. The finishing touch was to add on a custom folding staircase to allow Janet to smoothly open and close her shoppe on wheels. Keep your eyes peeled for the TresBello truck this summer and for more information check out her site here.