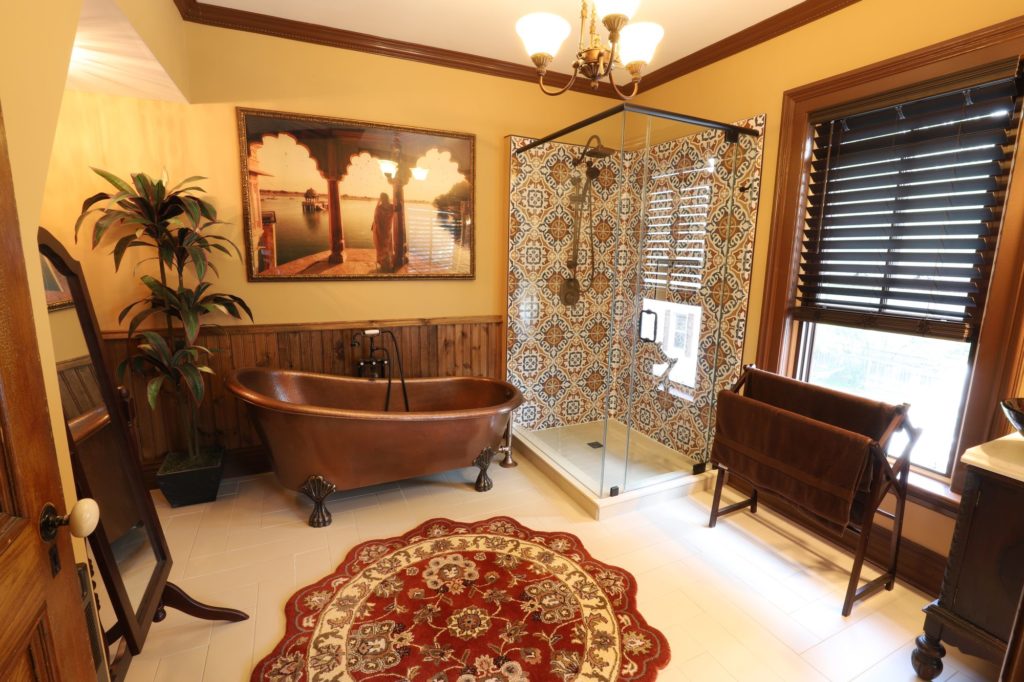 Lakefield Bathroom Renovation
This Lakefield bathroom renovation took place in a gorgeous 100 year old home. Our client came to us wanting to convert their existing 2nd floor guest room into a funky Moroccan-inspired bathroom space.
The solution involved removing part of the wall where the closet in the former bedroom had been. This allowed our team to convert the space into a cubby for the toilet. We then cut open and took off drywall on the back wall and part of a side wall. This allowed for better insulation around the shower.
A tricky element of this project involved getting the plumbing in. The ultimate solution involved removing part of the existing chimney. This meant we could then bring up the plumbing from the basement. Dave Carl of Trent Plumbing did an awesome job!
A new subfloor was put down, followed by tiles and a tiled-in custom shower. Another funky element of the project was the vanity. Our client had an old antique buffet that they wanted to incorporate into the final design somehow. By adding a countertop, the old buffet was repurposed into a double sink vanity.
My first contact with the team was very thorough. Chris Crowe advocated for my vision of how the project should be, and supported that. I was very pleased with that. I would highly recommend Kawartha Lakes Construction. I would like to also say they were very respectful, and D'Arcy Scott and Don Koppin listened exactly to what I wanted my vision to be. Our home is older, 150 years old and they were able to come up with a solution to maintain the integrity of my home.
- Rose & Daniel M