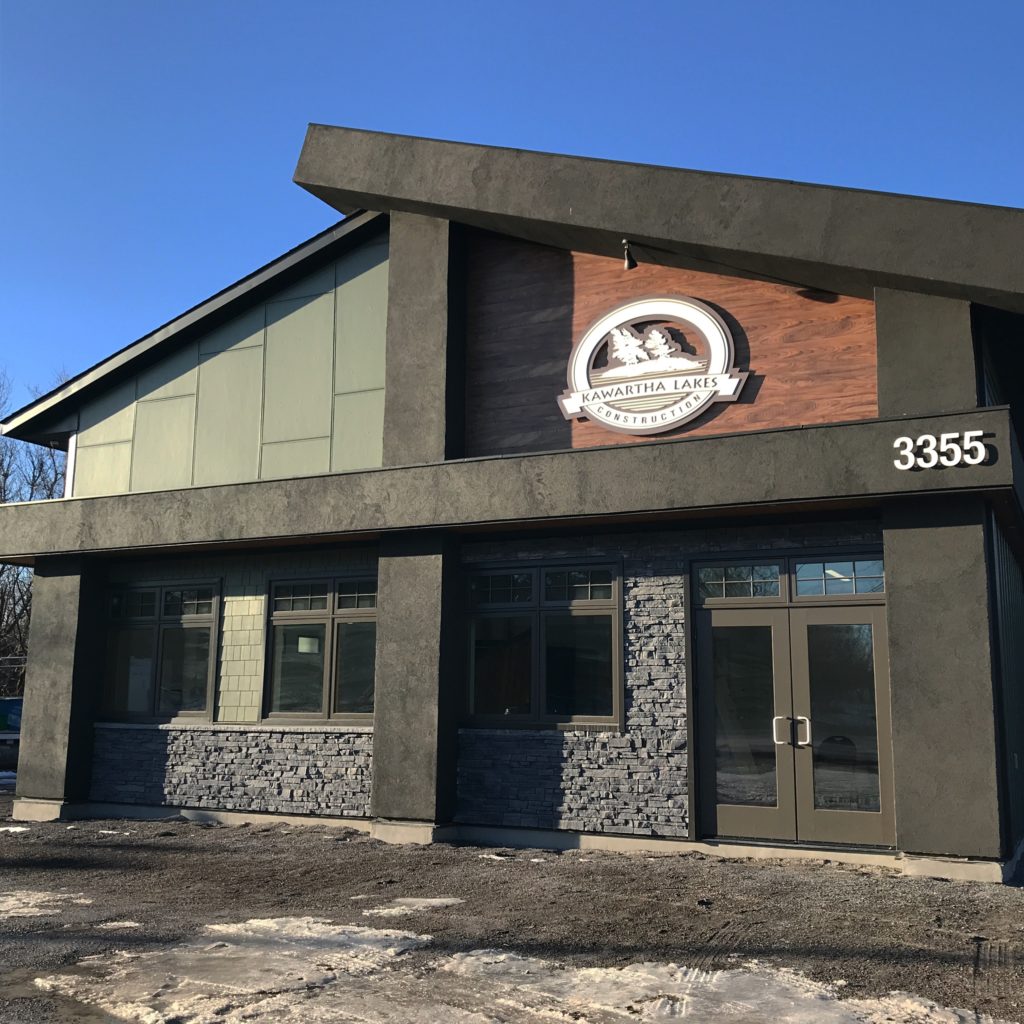 Lakefield Shop Transformation
Our own Lakefield shop transformation! This commercial renovation addressed the simple need for our Production team to have more space. The form & design, however, were inspired by our desire to showcase exterior finish trends while bringing a clean, modern presence to the Lakefield streetscape. Consequently, this shop transformation won an award at the Peterborough & the Kawarthas Home Builder's Association annual Housing Design Awards in the "Commercial Project" category.
Project Highlights
Exterior
• Salvaged major components from the original Lakefield shop and store front. Original roof is in fantastic shape and we reused instead of sending it to a salvage yard
• Stucco on the columns is a product our team admired but never had the chance to work with (thus advising clients was difficult as we had no experience with it)…now we can not only show them the product during initial design phase but we also have our own experience with it to draw from)
• Another new (to us) product featured on the building is Dizal, a high end aluminum product. New, high-end product we wanted to experiment with to better serve clients going forward
• Building features James Hardie precuts, a staple of many KLC projects. To mix up the standard installation technique, we installed a panellized effect which is a more modern approach.
• Incorporated the classic shake to show off to clients, which is a reliably popular choice
Interior
• Radiant heating in the slab to maximize efficiency (hybrid of the BASF wall system)
• Ceiling insulated with R60
• Triple glazed windows and LED lighting throughout entire building
• All design and selections allowed for an efficient building with low operating costs
• Interior shop is now an open concept, multipurpose space with high ceilings and increased storage area
Overall, the final product is a highly efficient and eye-catching presence as visitors enter the village of Lakefield. We are excited to see the building evolve through the coming years as we continue to use the space to showcase new, exciting products. If you like this project, be sure to check out our other boathouses and garages .