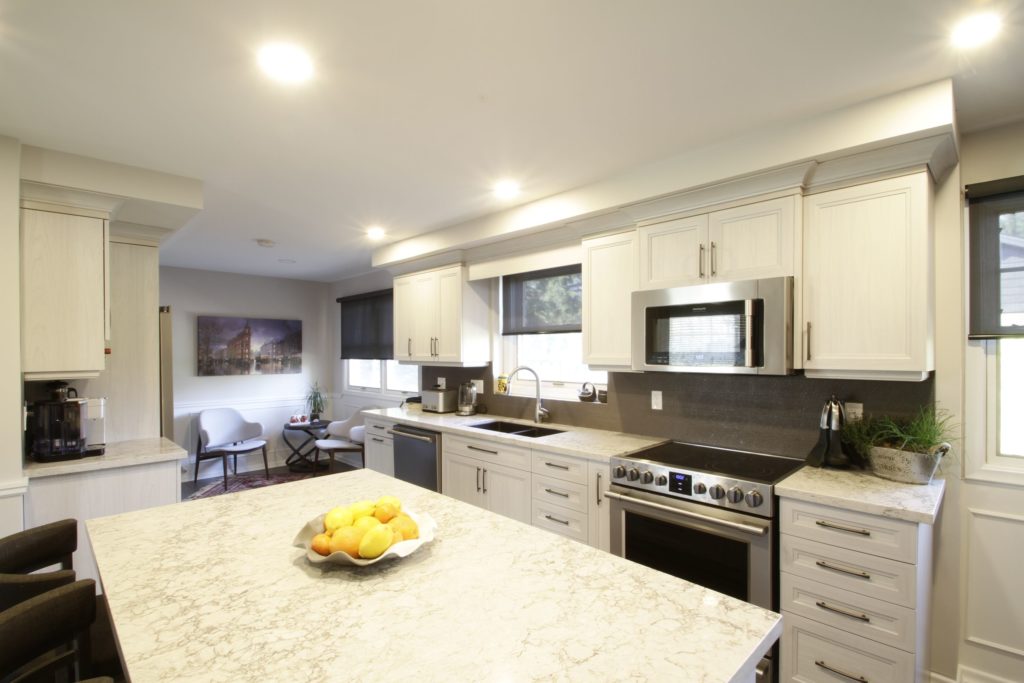 Peterborough Kitchen Renovation
This Peterborough kitchen renovation came to life when our client approached us to update their existing space. Upon entering the home, the central hallway opened into a dark, uninviting kitchen space. The kitchen and dining room were separated by a wall and narrow doorway.
The vision was to update to reflect more current styling and detailing. Improving traffic flow and lines of sight was also important.
The renovation involved an entire gutting of the space. The new design required relocating mechanical, plumbing and electrical. We refinished flooring, walls and installed new appliances, cabinetry and countertops. A new kitchen island became an ideal focal point of the space for working, hobbies and socializing with friends and family.
All in all, we transformed a compartmentalized space into an open concept to allow for a more enjoyable, warm, expansive space.
The best decision I made in 2018 was to hire Kawartha Lakes Construction to renovate my kitchen and dining room.  When I was listening to friends complain about the work they were having done at the same time, I had a perpetual smile on my face.  Not only were we thrilled with the end result – the best part was how easy it was to work with KLC and their amazing project manager and project coordinator.  Imagine how pleased we were when we got back into our house on the exact date they forecast at the beginning of the project.  Imagine how pleased we were when we arrived back home and the whole place had been cleaned for us.  Imagine how pleased we were to have a tiny thing go wrong 8 months later and they were on it immediately and it got fixed for free.  Finally, the changes Scott suggested have changed my life – my home is so much more open and spacious and modern and it truly fits my lifestyle.
- Colleen & Vern