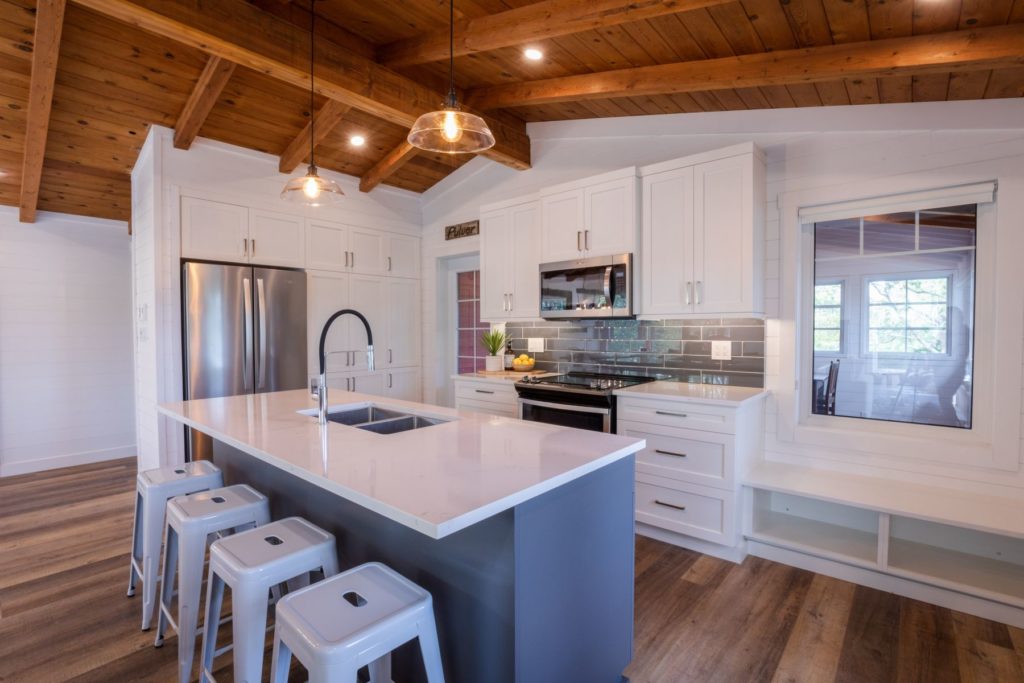 Cottage Renovation on Stoney Lake Island
Vision
This Stoney Lake cottage renovation came to life when our client purchased an older island cottage on Stoney Lake. The husband's family had a cottage on the lake when he was growing up, and it was time for his family to create a space of their own.
Design Solution
Initially, when our client approached us to develop a solution for their cottage, the plan was a minimal renovation to the cottage interior to simply make it usable. This would involve installing septic, a functional bathroom, a few new finishes and streamlined interior walls. More of a short-term "cheap and cheerful" solution and in a few years, the family would revisit the idea of a large-scale renovation and invest more time and energy to create their dream cottage.
Our team quickly discovered that regardless of the scale of the renovation solution, be it cheap and cheerful or more elaborate, there were larger functional elements that could not be avoided. Regardless of the final design plans, our team would need to address organizing the septic, conducting an electrical upgrade, dock installation and minor landscaping to make the site safe and accessible. As the plans and budgets evolved and we worked through guiding our client through the various options, our client decided if they went the cheap and cheerful route, they would be throwing away money to just redo the work again in a few years, when they would create their dream cottage space.
Thus, they decided to just go for it now and create the dream space they were envisioning. With the new scope of work in mind, a primary goal was to maintain the look and feel of the original cottage. They did not want anything fancy or monstrous. The new space would have a similar roofline and red siding, but we would update architectural features to re-support.
Project Highlights
Original pine ceiling remained intact, along with floor system
Completely reimagined interior featuring full views of the lake from every room in the cottage
Original floor system didn't have rim joists. This meant floor joists were able to move and were limited in loading capabilities. We cut them back and installed new beams around perimeter of building (this ensured new weight on roof would be supported)
Built new roof (same gable shape, just larger) over existing roof. This allowed us to keep original pine ceiling roof intact, install pot lights, insulate and give a uniform ceiling finish throughout interior of cottage
Our design team made the most of a small footprint due to limits with setbacks. Thus, every inch of floor space is used effectively – all rooms are square, all features are symmetrical (island to TV to windows and furniture). There is no wasted space. The laundry is in the closet, no unnecessary rooms, all "open areas" are walkways for moving from space to space. The master bedroom at end of the hall is separated from the second bathroom by the bathroom, and a closet was placed between the bathroom and third bedroom, allowing a bit more privacy in a small space.
Our designer Jenna Ford embraced linear design principles for this project and explored every option with our client to ensure they were making informed decisions. As Jenna describes "there was no put a chair there to fill space…we used every inch to either have, furnish or walk around".
Overall, the refreshed Stoney Lake cottage space is a bright & functional getaway for our clients and loved ones to retreat to for years to come.
Project Partners
ABR Contracting
Chemong Chimney
Chemong Home Hardware
Connor Windows Doors & Sunrooms
Doughty Masonry Center
FCI Windows Inc
Friendly Fires
Great Northern Insulation
Harrison Drywall
Harwood Kitchens
Kingdon Lumber
Laszlo's Professional Painting
Leahy Electrical
Martin Chimney
McWilliams Moving & Storage Ltd
Meistercaft
Monaghan Lumber
Muskoka Timber Mills
Northwood Lumber
S.J.P Roofing
Shewen Construction Ltd
Trent Plumbing Inc.
Woodview Farm & Forest Products Ltd