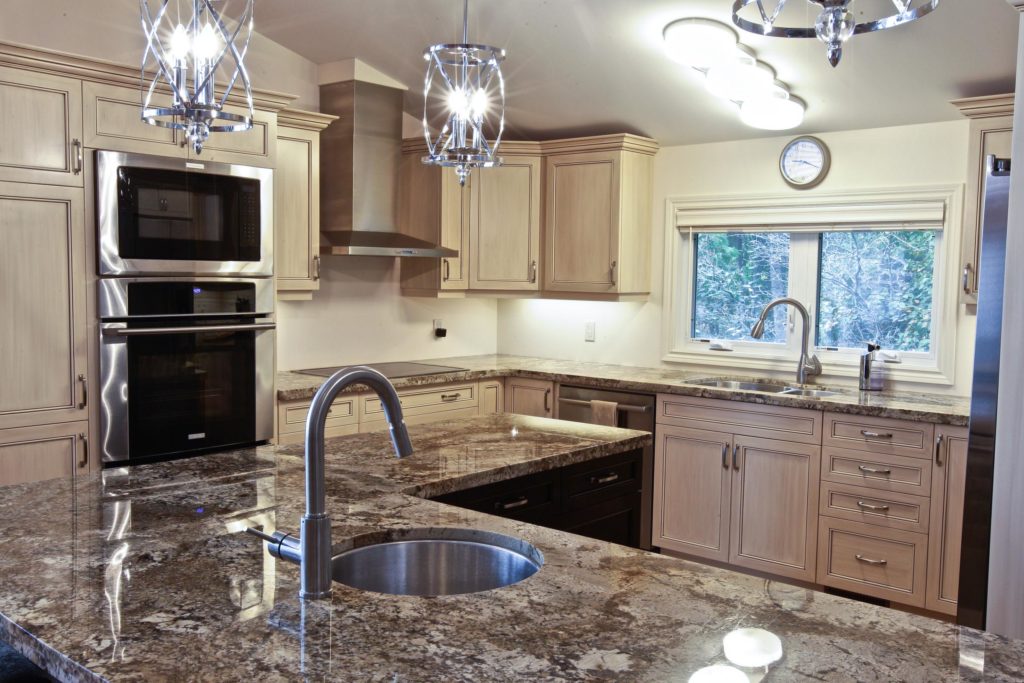 Stoney Lake Kitchen Renovation
This Stoney Lake kitchen renovation began with a very detached, dysfunctional and poorly laid-out kitchen space which had no natural connection to rest of the cottage.
The KLC team removed a large component of a structural bearing wall to open up the room and create a sense of connectivity to the main portion of the cottage. We took advantage of the high vaulted ceilings by reducing them slightly to allow for increased insulation and implemented an improved lighting plan with the installation of pot lights.
We purchased a 4-season cottage on Stoney Lake and the main feature of the cottage should have been the big windows that look out onto the lake and capture the daily sunsets. However, because of the way the cottage interior was, it did not allow us to have this from the kitchen because of a long load bearing wall that isolated and separated the kitchen from the main living/dining room area.  In addition, the stairs leading to the basement was front-center, on the other side of the kitchen wall in the dining / living room.  It was an eyesore and completely overshadowed the featured view.  The kitchen was also completely outdated and too small.  The overall areas were so dim with the lack of lighting and all walls were covered with dark pine paneling.
As a result, we were motivated to have an open concept allowing the gorgeous view to be seen from the kitchen and living/dining room areas. By opening it up we would also allow more light in and finally we also had to move the stairs to another location- but where?
We called Kawartha Lakes Construction to come for a consultation to help us with our vision.  The overall goal was to integrate and flow the living spaces, add more ceiling light, move the stairs to the opposite side of the dining / living room, create a proper interior entrance way and update the spaces.
What was promised was delivered; the transformation accomplished the total goal and exceeded our expectations in looks. The reno from start to finish was seamless, the workmanship was top-notch and everyone in the crew was a pleasure to deal with.
- Ingrid and Robert