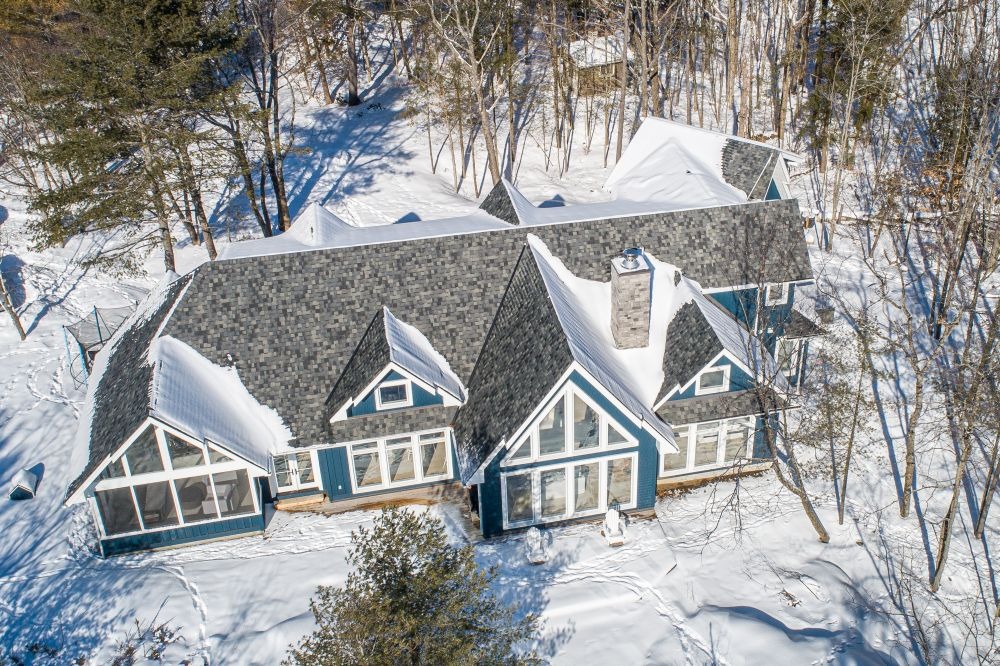 Dream Custom Cottage on Stoney Lake
The Vision
This custom cottage on Stoney Lake was brought to life when our client approached KLC to build a spacious 4-season getaway for their growing family.
This is a custom cottage that embodies a coastal feel with natural light, soft tones, and a clean aesthetic. What's remarkable is that from their very first scrapbook ideas, through to the finished project, the vision remained cohesive and true to the client's initial ideas.
Design Solution
When we got down to planning, our client had a meticulous conception of their ideal custom cottage, even down to the colour palette.
Above all else, they wanted to capture a feeling of being immediately welcomed into their home. Consequently, this translated into a large entryway and staircase that draws guests into the whole space with its view of a bright and airy great room with a large fireplace, and a fixed wall of glass allowing for lots of light and showcasing the gorgeous view of Stoney Lake.
Moreover, there were many different wall finishes, and to make sure that KLC got them right, our Design team laboured to create, room by room, all of the different elevations so that every wall showcased the appropriate finish with the appropriate details. As a result, each wall was signed off on by the client. Finally, our Project Selections team worked tirelessly to provide samples and help source the perfect materials to match the client's dream finishes.
The main challenge for our Design team was to ensure they captured the client's vision with precision. Careful listening, and hours of work from our team, along with the use of our 3D modeling abilities, ensured that we had the details just right, and met the client's objectives (an example of our 3D Revit modeling can be found here.) Most importantly, the first time the client saw the cottage in real life, it was exactly as they'd expected and perfectly reflected our highly detailed planning process.
Challenges Vs. Solutions
| | |
| --- | --- |
| Challenge | Solution |
| Roof Line | Made sure it was structured properly to remove ice and water. |
| Wood on Walls & Ceiling | MDF shiplap that can be prefinished at a lower cost than wood shiplap. We spray foamed the entire shell, including walls and rafters, and used a "flash and batt" application that saved money on insulation and allowed us to apply the flame barrier. |
| Flooring | We searched long and hard to find an engineered flooring that had all the design elements the client envisioned. We found it at Stradwick's. As we were about to order it we discovered that it was in multiple widths which the client did not want. Stradwick's was able to source another selection in the appropriate style and price range. |
| Align the client's wish list and budget | This required multiple rounds of conceptual design and budgetary evolutions. |
Project Highlights
Energuide Rating: We are proud to report that the cottage has an Energuide rating of 170 compared to the average home which usually rates at 222. As a result, our clients love how energy efficient their cottage is. They find it very comfortable and easy to heat.
Staircase: The feeling of being welcomed into the space was a priority. To achieve this the grand interior staircase was widened to ensure that the site line draws the eye into the great room with its cathedral ceiling, large fireplace, and fixed wall of glass. In short, it welcomes the guest into the space.
Walls: Our client was highly detailed and had an exceptionally clear vision – the walls are different in every room. Consequently, each wall showcases the appropriate finish with the appropriate details.
Wall of Glass: In the great room the windows are all fixed – not something you'd typically see. This is a wall of glass with a very modern flair to it, while still maintaining a cozy, coastal vibe.
White Meralis cabinets
Vanities
MDF Shiplap Walls and Ceilings: They are accented with knotty pine beams and a custom stain.
Lepage widows and doors: Gave clients the look they wanted.
Tile Work: The tile work and showers are works of art.
Project Partners
"KLC did an outstanding job. My wife and I began with an idea of what we wanted in our new build cottage – KLC translated that very high-level vision into reality. The work was done on time and on budget. We are thrilled with the result."
- Jed & Jenny F.