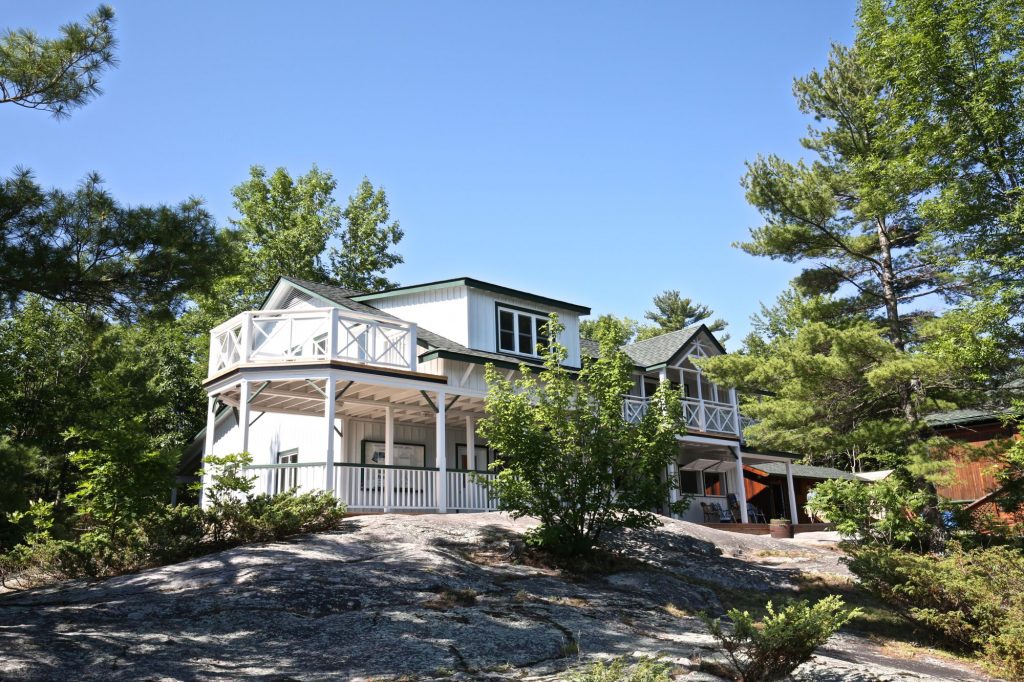 Juniper Island Store Rebuild
When the time came for the Juniper Island Store rebuild on Stony Lake, it was imperative to that the new building maintain the look and feel of the original store.
Kawartha Lakes Construction has worked with the Association of Stony Lake Cottagers (ASLC) for many years to maintain the historic 100+ year old general store on Juniper Island, Stony Lake. This was a task that became increasing difficulty each year as the building was deteriorating faster than it could be repaired. After a final engineers report, the building was deemed structurally unsound and the ASLC determined that it would ultimately have to be taken down and rebuilt.
KLC worked with the designer and the representative of the cottagers association to find materials which would be low maintenance, durable and resemble the original. Painstaking love and effort went into this re creation with many features mirroring the original look while others embellishing to improve functionality & maintenance but all the while preserve its original character and charm.
The prefinished wood siding is very similar to the original look as well as the wood railings (with glass coverings on the second floor to meet code requirements). Some of the original doors and window shutters were repainted and reused, as were some kitchen counters. Memorabilia such as a Bottle Cap wall and paintings in front of the kitchen counter were salvaged and reused. Lattice was handmade to replicate the original and cornice and other trim pieces were salvaged to use as templates for the new work. The ASLC now has a modern, safe building which very much retains the spirit of the original.
The Association of Stony Lake Cottagers (ASLC) had reached the end of the useful life of its beloved Juniper Island Store building – the heart of the community.  The membership spoke passionately about preserving the heritage of the building and the Board embarked on a project to replicate the exterior as closely as possible while modernizing the interior.  Kawartha Lakes Construction was the successful bidder.  Throughout the build, KLC worked collegially with the architect, Association and Heritage Foundation to improve the quality of the project – both in design and material selection. The schedule and budget were paramount and KLC met both!  KLC's attention to detail and quality of work were exceptional and they never waivered in their commitment to the project.  Not only did KLC impress the Association and Heritage Foundation, but the entire community – a job very well done!
- David H