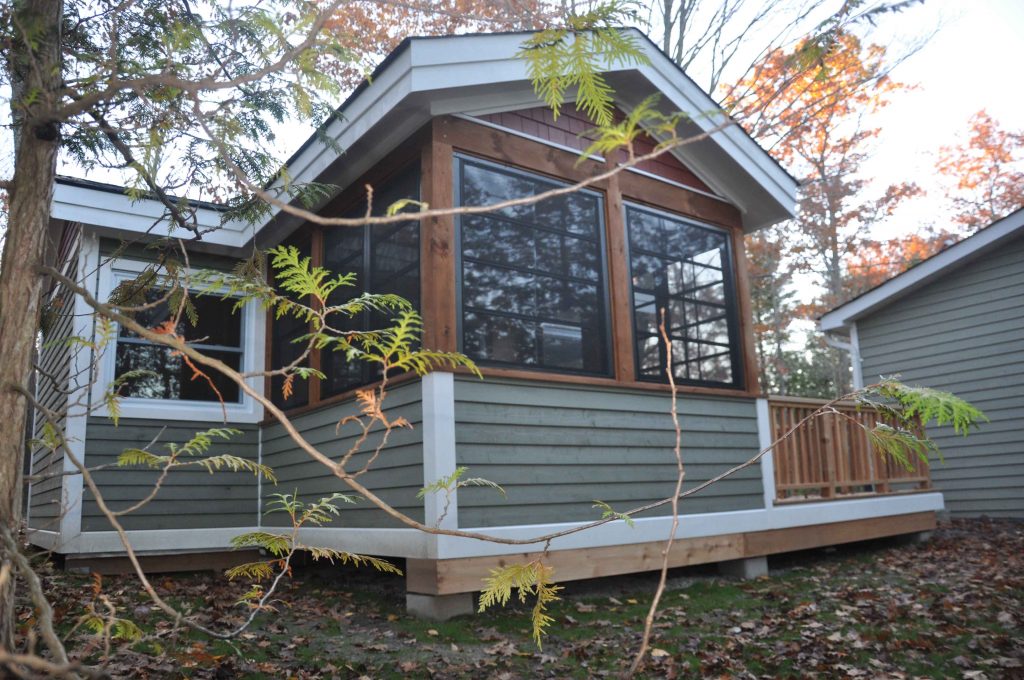 Buckhorn Bunkie Adds More Space at the Cottage
This Buckhorn bunkie project was designed and constructed with long‐term life cycle expectations. Factory pre‐finished exterior materials matching the existing main cottage were incorporated wherever possible. It was important to our client that the new structure would have a reasonable view of the lake and that it be an insect free, three‐season environment.
Our client also desired an open space with no intermediate supporting walls or columns and for the space to be similar to the vaulted pine ceiling of the main cottage. This was achieved by way of engineered beams both in the ceiling and the end gable walls supported down to the main foundation. Another design consideration was that the bunkie include an outdoor deck or patio for those days when sitting on the deck and enjoying a view of the lake without bugs was possible. This was accomplished by way of a 10 x 10 western red cedar deck used to set furniture on and provide primary access to the bunkie at the same time.
Finally, one of the key elements of design was keeping the place cool during the hot days without the installation of air conditioning equipment. This was accomplished by means of providing above deck insulation and large central ceiling fans with full opening windows in both the sleeping quarters and the
"three season" room.
All in all, this functional space came in at a neat and tidy 340 square foot that represents cottage living at its finest!