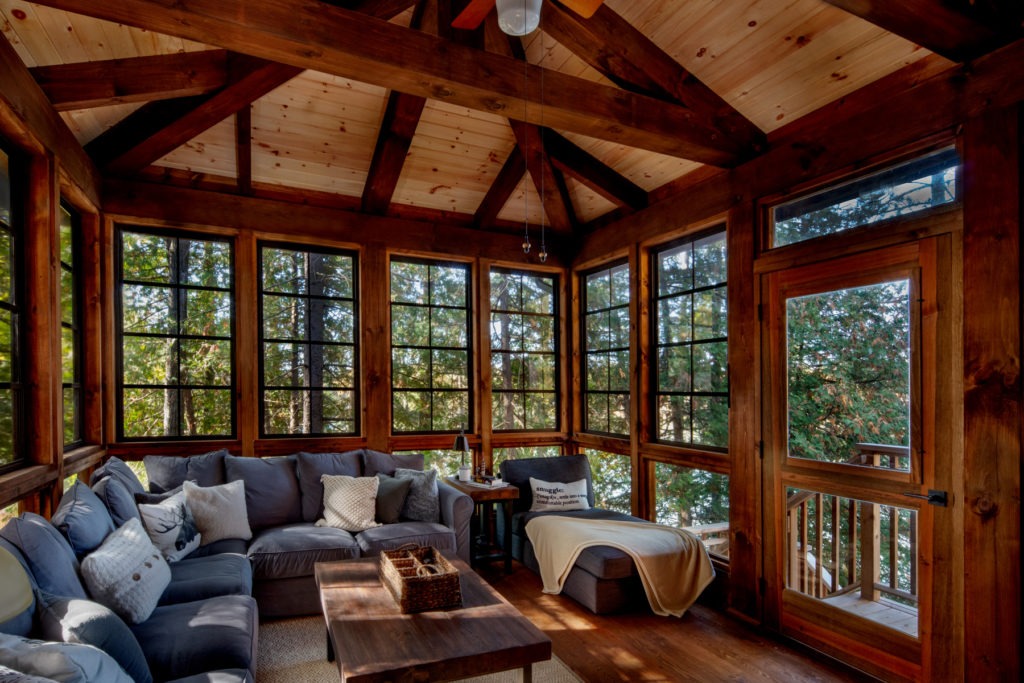 Buckhorn Exterior Renovation
The Vision
This Buckhorn cottage exterior renovation began with a simple desire to build a screen room at the family cottage. Our clients desired a space they could retreat to when the bugs came out in the evening. They envisioned an area where they could relax & read and still feel like they were enjoying the great outdoors surrounding them.
Design Solution
To ensure the final space would accommodate the selections our clients had in mind, our team measured the furniture they would have in the screen room to ensure square footage would match. The original scope was a 12 x 12 porch, but it was decided that adding 2′ on either end made the room more comfortable.
We used our standard WeatherMaster and tempered glass panel approach to design the screened area. In addition, the plan included a 2 x 6 "box beam" around the bases of the tempered panels to accommodate electrical outlets all around (rather than use floor outlets).
Project Highlights
Angled orientation provides unobstructed views of Sandy Lake waterfront
Porch designed with privacy in mind…back angled portion faces neighbours while sectional couch runs alongside/ facing away, allowing utmost privacy
Access to screened room at both roadside and lakeside for ease of access/circulation to either side of cottage
In addition to the screened room, our client wanted to explore options for adding curb appeal to the cottage exterior. The large scale exterior remodel included a timber frame entry portico, a garage entry portico, roofing, aluminum works, stucco installation and siding.
Overall, this exterior renovation project implemented smart design choices & quality craftsmanship. This simple 70's era cottage exterior has moved from simple to sweeping!
Project Partners