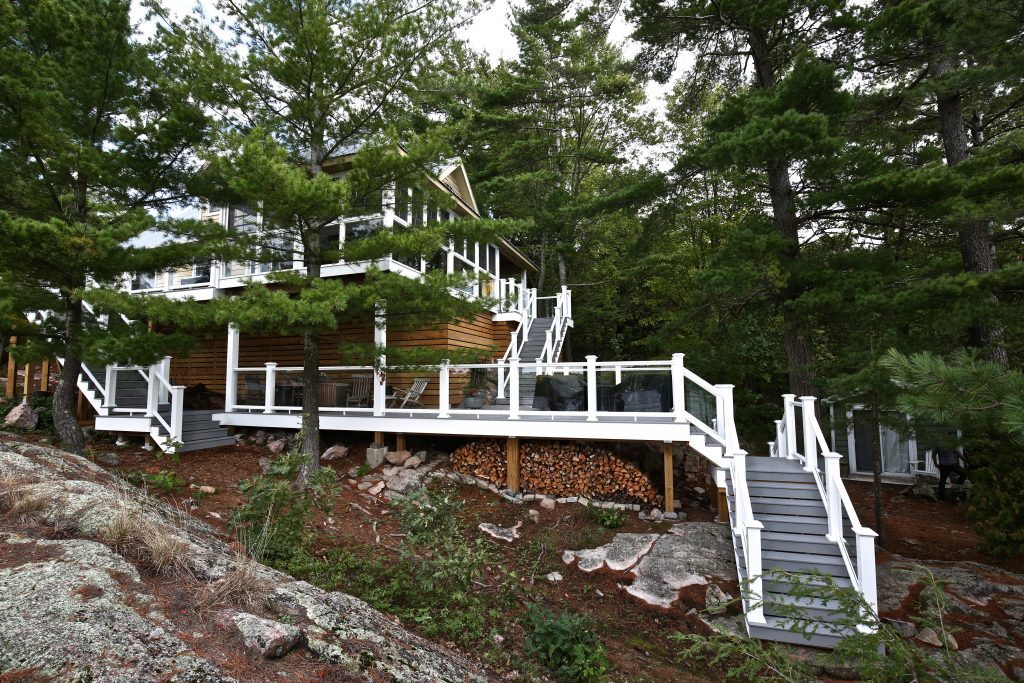 Stoney Lake Cottage Facelift
Having spent a few summers at their cottage, our client had a clear idea of what improvements they were looking for. They came to us with a detailed wish list to assist our team in direction of the project.
The existing screened porch was cut off from the upper BBQ deck. With a 2'high knee-wall lake side and half wall to the upper BBQ deck, the flow was chaotic and forced traffic in and out of the living area to access each of the two spaces. We replaced the half wall with a patio door and removed the knee wall. In the place of the knee wall we added clear tempered glass and weather wall screens above. A coat of white wash to the weathered pine walls also brightened up the space.
The end result is a comfortable and relaxed space that feels like an outdoor living room in a tree house. The room connects easily to the adjoining BBQ deck area without the added traffic flow through the cottage. The weather wall screens allow moderation of elements to make the space enjoyable throughout the summer. The BBQ deck was expanded to the end of the cottage to create a more comfortable space. A full flight of stairs was brought to the lower level landing which ties into an expanded lower deck (below the screened in room). Our clients opted for maintenance free finishes (Trex Aztek rail, and Fiberon composite decking) to optimize their enjoyment of their time at the cottage. We removed the tired lattice work below the cottage and replaced it with horizontal 2x screening to complete the exterior remodel of the cottage.
Kawartha Lakes Construction has been a great company to work with! Considering we live far away from our cottage and in a different time zone we have been able to work well with all the crew. The design and build exceeded our expectations and has transformed our cottage exterior to really take in the views of the lake. Also I'm relishing the idea of not having to spend my limited time at the cottage having to do major maintenance to keep it looking great!
KLC was fabulous at keeping me informed on the progress of the renovation and considering we are on an island and dependant on weather and access they were able to keep to the schedule quite closely. All of the crew were professional and seem to really enjoy working as a team.
- Lovett & Melanie L.