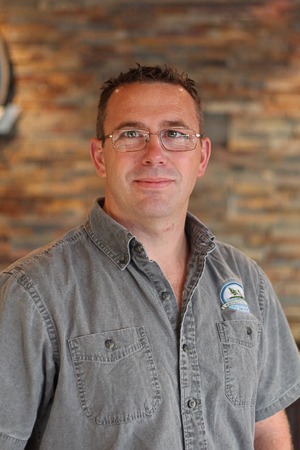 Meet the Team: Ben Reynolds, Production Manager
January 13, 2020
Posted by Lindsay Wilson in Meet the Team
"Every project is unique, and every project has some memory that I'm never going to forget," Ben Reynolds, Production Manager at Kawartha Lakes Construction, recalls of his time working as Project Lead at KLC. He describes the decision to move away from carpentry and into a management role as "kind of a heart-wrenching thing to give up but, ironically, my family cottage is across the bay from my last build as a Project Lead with KLC. When I wake up at the cottage, my first view is of that cottage and that's something I'll look at forever. It's neat to have that, to say my last professional build is right in front of me every single day."
The KLC Difference
When asked to describe what makes a KLC project special and memorable, Ben is quick to point out how thorough KLC is at investigating every aspect of construction before hammers start swinging. He believes that KLC's strength is "we tell people honestly what it truly will take from cost, time frame, and materials. We show them what it's going to look like, and we produce it exactly as we developed it. It's a moving target but we tend to do it more often than not, and it's fantastic when you tell a client: "Hey, we're going start a big project for you and, by-the-way, here's what it's going to cost and we're going to be done on this date, and we actually achieve both of those, that's a huge win and that tends to be something that we're really good at doing."
Embracing a "People First" Approach
KLC's ability to understand the needs of its clients is mirrored in its willingness to recognize the needs of its staff. Part of Ben's job as Production Manager is to "understand the needs of our people as opposed to the company and focus on them. The two don't always jive, so you want to find a balance. At the end of the day, my role is to support the Production staff. That is my priority: to make sure Production staff are treated right. After that it's the company. People first because we wouldn't have a company if it wasn't for the people."
One tool that supports the people and culture at KLC is the "Friday Report", spearheaded by Ben. In its early days, Scott Wootton, KLC's founder, sat down with Ben and said: "This is great, but this is the company through your eyes. Why are you doing it through your eyes?".
It was then that Ben began asking KLC's Project Leads and Project Coordinators to start submitting weekly progress updates and photos of their jobs. Ben is quick to add: "It's an amazing communication tool for our team and it's just cool that the entire company is working together to create a weekly log of activities. I love seeing peoples' humor as well. Different people have some pretty humorous pictures, blurbs, and it's fun when it's not only a Project Lead or Coordinator sending it in into the report. It's something that the majority of construction companies might find foolish: Why would you ever do that? You're wasting time? But you're not wasting time. You're creating a culture."
Looking Ahead
Looking to the future, Ben would like to see KLC recognized as an awesome place to work. "That's probably my biggest priority," he continues. "I see KLC as a place where we can help develop individuals into the trades; teach them a career path or a trade themselves; and mentor them through all the different stages in life. At KLC, we're one of a few local design/build companies where you can have a career as opposed to just a job. It's something different. It's nice as a carpenter to know that, at some given point, your body isn't going to hold up the way how it did before, so what's the next stage in life? Can we help train someone into the next phase? Still in building science, still something they love and able to finish off their entire career under one company."
Ben Reynolds is the Production Manager at Kawartha Lakes Construction. If you'd like to connect with Ben to chat about a renovation, custom build or career opportunity with the Production team, shoot us a message!