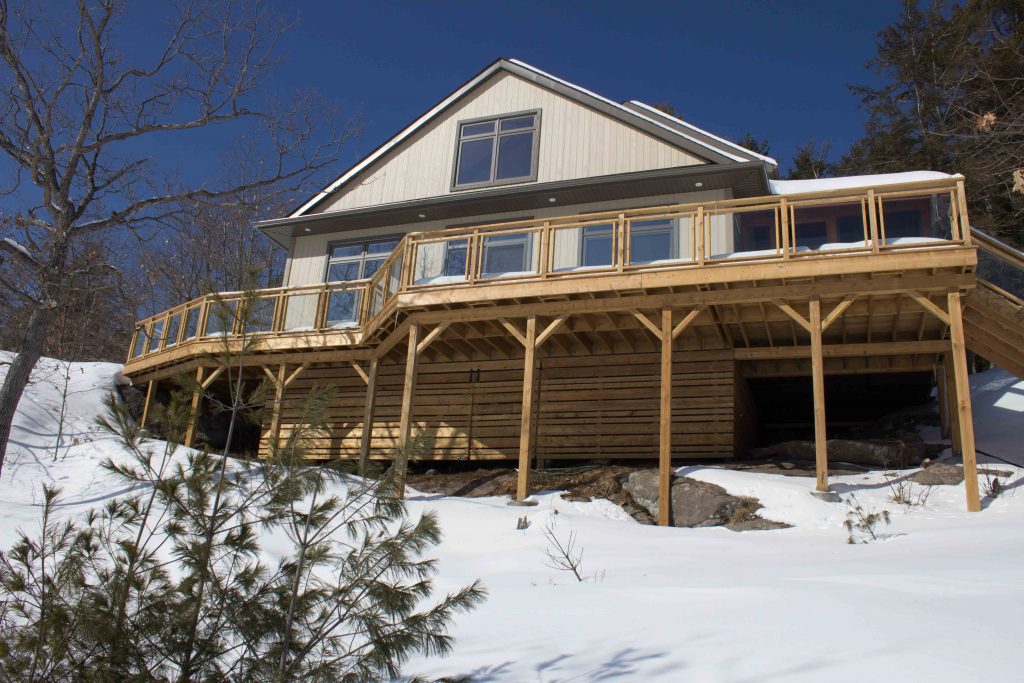 Dream Cottage on Catchacoma Lake
This extremely challenging cottage on Catchacoma Lake purposely avoided conventional foundations through the use of a steel sub-frame to allow for direct attachment to the side of a cliff. All materials were brought across a frozen over lake and up the side of a cliff with the aid of a marine railway. Despite its remote location this cottage was fully insulated and treated as a 4-season home. Due to the sheer cliff on site, the floor plan was stepped up into a split-level format allowing access to the top of the cliff through the rear of the upper-level.
Julie and I decided that we wanted to build a cottage on the lake where I spent my childhood summers. We had been planning for a few years. Over Thanksgiving, we interviewed different contractors and we were very impressed with Scott Wootton.  His organized, knowledgeable approach and obvious experience with water access projects was a good fit for us.
The planning and design process was seamless and efficient.  The team managing the project were approachable and easy to work with. They were always available to answer our questions in timely fashion. Our meetings and conference calls were goal oriented and always productive.  Living far away, made the planning more challenging for us but KLC kept it moving forward. They kept us up to date with frequent emails and on-site pictures of the progress of our project.
Our experience was amazing. We felt that Mario, Ben and the rest of the team worked on our project like it was their own dream cottage. They all had excellent suggestions throughout the project. They were always open to our new ideas and accommodating.  We always felt like we were part of the team. There were only a few unexpected surprises and they were dealt with quickly and responsibly by KLC.
Our first stay at our cottage was this past Thanksgiving weekend. Even though the cottage was finished for a few weeks, the contractors met with us on site to review the finished product and to go over the winterizing procedure.  They had everything organized in a binder to make this procedure as seamless as possible. Our weekend at the cottage with our family was a dream come true and we are looking forward to many more to come.
Kawartha Lake Construction was part of the family for the past year. They will be remembered as an organized, efficient, approachable and highly skilled team. We would definitely use them again for any future project. We cannot recommend KLC highly enough.
- Julie & Trevor