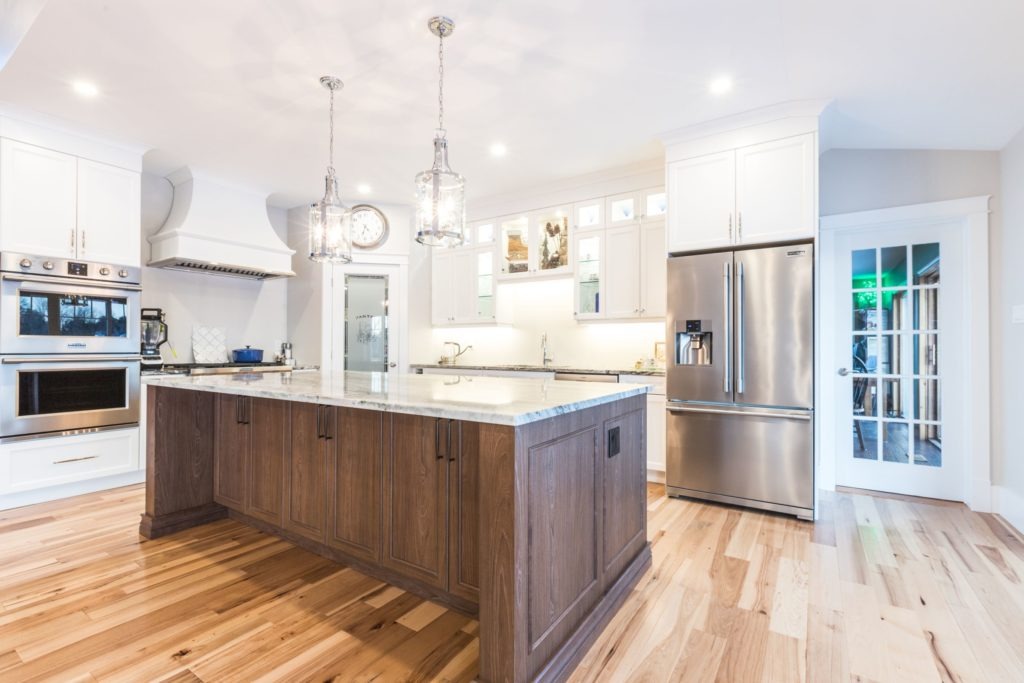 Home Renovation Lakefield
This home renovation in Lakefield came to life when our clients approached us to update a home they were moving into. The wish list included a new kitchen, deck, office space, updated entrance facade, hardwood flooring throughout, ceiling insulation and 3 bathroom renovations. They are a couple who love to invite friends & family over, so having great space for entertaining was essential!
Through our initial budget process, our team determined that the budget allowed us to tackle the kitchen, flooring, deck, insulation and office. The plan involved engineering the existing truss where the new kitchen was to go so that we could raise the ceiling by 1'. A former bedroom was removed to make space for the new kitchen. This dramatically opened up the space into the existing living room. This swap also meant we had to change the entrance to one bathroom. We also installed a wall of french doors to section off an area in a large bedroom for separate office space.
In the living room, we removed two windows, and made another opening to install 3 patio doors. These doors walked out to a large new deck space, separated to allow for a private deck and an entertaining deck. One of the homeowners is an avid kayaker and so we also created a storage rack under the decks for his kayaks.
Our clients hated the existing popcorn ceiling in the living room so that was sanded down and skim coated with plaster to make a new ceiling. The entire living room was repainted and has new hardwood flooring installed. All in all, we'd say a new life has been breathed into this lovely old Lakefield home and are thrilled that a new family will enjoy the space for the years to come!