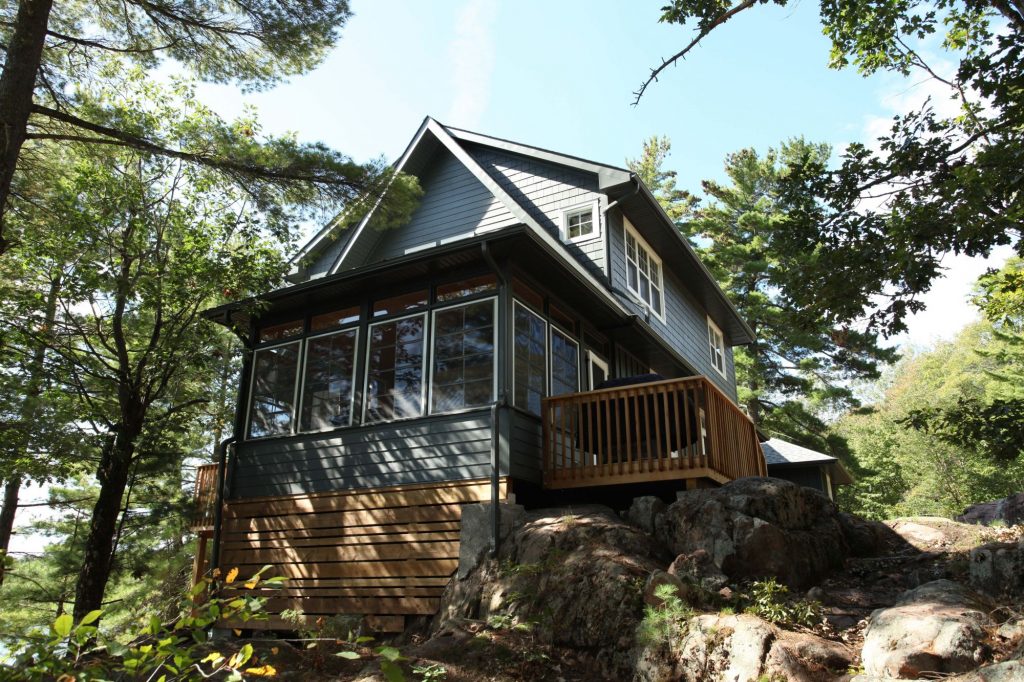 Stoney Lake Custom Cottage Build
Hidden amongst the mature pines and oaks, on a rather difficult piece of island shoreline, this well designed Stoney Lake custom cottage build was oriented to replace the footprint of the family's previous 2-season building. The existing decks were to be maintained, setting precedent for the orientation and views, which were enhanced with the use of floor to ceiling glass in the great room and copious window views looking out over the Church on the Rock on Stoney Lake.
Natural wood and stone finishes give a very organic cottage feel, complete with screened porch to interconnect indoors and out. Although 2 stories high, the clever use of horizontal latticework and an added mid-line roof system reduced the feeling of height and allowed the cottage to seamlessly blend into the treescape like it has always been there.
We were able to rely on the knowledge and experience of the company for many product and design decisions. We worked very closely with the design team to develop our plans and we wouldn't change anything about the final design.
I can't think of an area where the company didn't meet or exceed our expectations. The owner has assembled a team of talented and dedicated professionals who went above and beyond to ensure the process of designing and building our cottage was as seamless as possible. They are incredibly organized and always ensured we were aware of upcoming benchmarks and resulting decision making timelines. Every member of the team takes pride in what they do and is a pleasure to deal with.
We would recommend this company to anyone looking for a builder with absolute confidence that they would have as positive an experience as we have had.
- Shonda & Michael P